Your property's driveway adds a lot of curb appeal to your home. While you may not give it a lot of thought, your driveway's appearance can make or break how people see your home from the outside. Many homeowners don't actually think about how much the appearance of their driveway matters until they notice a stain.
It can be very aggravating for many homeowners to notice a vehicle leaked brake fluid on their driveway. Many people worry that a brake fluid leak may stain their driveway. While this is a very unattractive site, homeowners don't have to worry. If the leak gets cleaned up properly it will not stain the concrete. This can be good news for any vehicle owner who just noticed a leak.
A stain may occur if you don't clean up the brake fluid promptly. That's why all vehicle owners should clean up the spill as soon as they notice it. Brake fluid spills may be annoying, but they don't have to cause a headache if they are handled the right way.
Keep reading for more information about how to clean up brake fluid on concrete and the products to use.
How to Remove Brake Fluid Stains From the Driveway
If you don't want brake fluid to stain your driveway, you're going to need to take action fast. The first thing you should do is soak up the brake fluid. Don't use a towel or rag to do this, instead, the best product for soaking up spilled brake fluid is kitty litter.
Using Cat Litter on Brake Fluid
A good brand of kitty litter will effectively do the trick. Simply pour some little over the brake fluid and allow it to soak up. It's best if you let the litter sit for a couple of hours to make sure it absorbs as much as possible. After a few hours, you can scoop up the litter and throw it away.
Make sure you sweep around the area to collect any leftover litter bits. Once the litter is cleaned up, you will need to use a biodegradable cleaning product to clean up the mark on the concrete from the brake fluid spill.
One method that works really well is using a brick to mix and scrape the concrete to help lift and remove the brake fluid stains.
We recommend using a good brand kitty litter like Arm and Hammer Clump and Seal to soak up the brake fluid. It's low cost, and will get the job done.
Use a Concrete/Driveway Cleaner or Degreaser
You may be able to find a cleaner specifically for concrete and driveways at your local hardware store. This will do the most effective job of cleaning the stain.
Concrete and driveway cleaners are specially formulated to help lift the grease and gunk from the concrete. Even tough stains are easier to get rid of with one of these formulas. If you are unable to get a specific driveway cleaner, you should at least make sure you're using an environmentally friendly cleaner outdoors.
When you use the cleaner on the brake fluid stain, it's best to let it sit for at least half an hour before rinsing it off. You can simply use your garden hose to rinse away the cleaner and it will lift the fluid stains, leaving you with a cleaner concrete driveway.
One thing that makes concrete different from asphalt is that it has smaller pores into which the brake fluid could seep into.
After you have rinsed away the cleaner, it's a good idea to use a product like diatomaceous earth to get into those cracks and pores of the concrete. It will dissolve any remaining brake fluid and draw it out of the cracks. 
Does Brake Fluid Eat Concrete?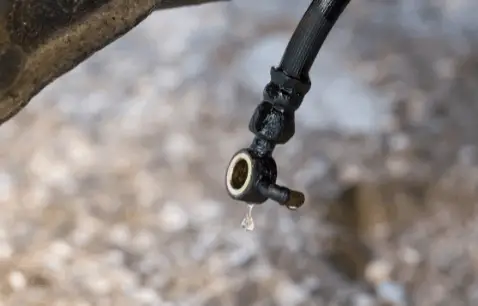 If you notice brake fluid leaking on your concrete driveway, you will not have to worry about the brake fluid eating concrete. Brake fluid does not react to concrete because it is not a corrosive substance. Actually, brake fluid is non-corrosive so it doesn't react very much. The only time it may become corrosive is if it absorbs certain moisture. 
When you notice brake fluid spilled on your concrete, you will not have to worry about the condition of your concrete or what will happen to it.
The worst thing that will happen is that a stain will remain if the brake fluid doesn't get cleaned up in time. Most vehicle owners need to be more worried about their car than their driveway when they notice brake fluid leaking.
Will Brake Fluid Eat Asphalt?
Asphalt driveways are different from concrete, so homeowners need to be more cautious if they notice a spill.
When your car starts leaking brake fluid on your asphalt driveway, it's crucial that you take the same steps as mentioned above to clean your driveway. With asphalt, the outcome is more severe if the brake fluid doesn't get cleaned up in time.
While the brake fluid stain will bring down the appearance of your property, it will also create some problems under the surface.
Asphalt is a by-product of petroleum refining processing, which is why it has such a negative reaction to oils and fluids. If the fluid stain is left untreated, it will begin to cause a lot of problems under the driveway's surface.
The brake fluid will begin to weaken the underlay of the driveway's structure. This will begin to weaken and degrade the asphalt that was initially keeping your driveway together. Eventually, it will cause cracks that could turn into potholes. 
It's important to clean up brake fluid on asphalt as soon as you notice it. While you should ideally use the same products as you would with concrete driveways, this cleaning job is more urgent.
That is why there are a number of products suitable for getting brake fluid cleaned off of asphalt, including:
Dish soap
Baking soda
Laundry detergent
Coca-cola
Microbial Asphalt Cleaner
However, while it's important to get that mess cleaned up promptly, there are some products you should avoid using on asphalt. You should never use a pressure washer on an asphalt driveway because the pressure could destroy the top layer of pavement.
It's also crucial that you don't use brooms with metal wires when cleaning up around the spill as they could also damage the top layer of your driveway.
You should also avoid using cleaners with solvents because they are too harsh. They could end up dissolving the asphalt's binder. Avoid spot cleaners and any cleaner with turpentine because they will just cause damage.
Final Thoughts
A brake fluid leak is never a good sign for vehicle owners, but if the mess is caught in time it shouldn't stain the concrete. Luckily, brake fluid is not a corrosive substance so it doesn't do a lot of damage when it spills to the ground. For the most part, people need to be more concerned about their vehicles than their driveways.
However, a brake fluid spill never looks good on the driveways and can seriously bring down your home's curb appeal. Cleaning up an oil spill is quite easy, and if you have cats you probably already have the first thing you need to start cleaning the mess. 
Fortunately, it's very easy and affordable to clean a brake fluid spill off of your concrete driveway. When you do notice these spills, it's a good idea to let the products sit on the stain for a good amount of time so they can effectively do their job.